Renato Morelli, Stelle Gelindi tre Re.
Tradizione orale e fonti scritte nei canti di questua natalizio-epifanici dell'arco alpino dalla Controriforma alla globalizzazione
Udine, Nota, eos CD and book 455, 2014, 320 p. (with 1 CD)
ISBN 9788861631274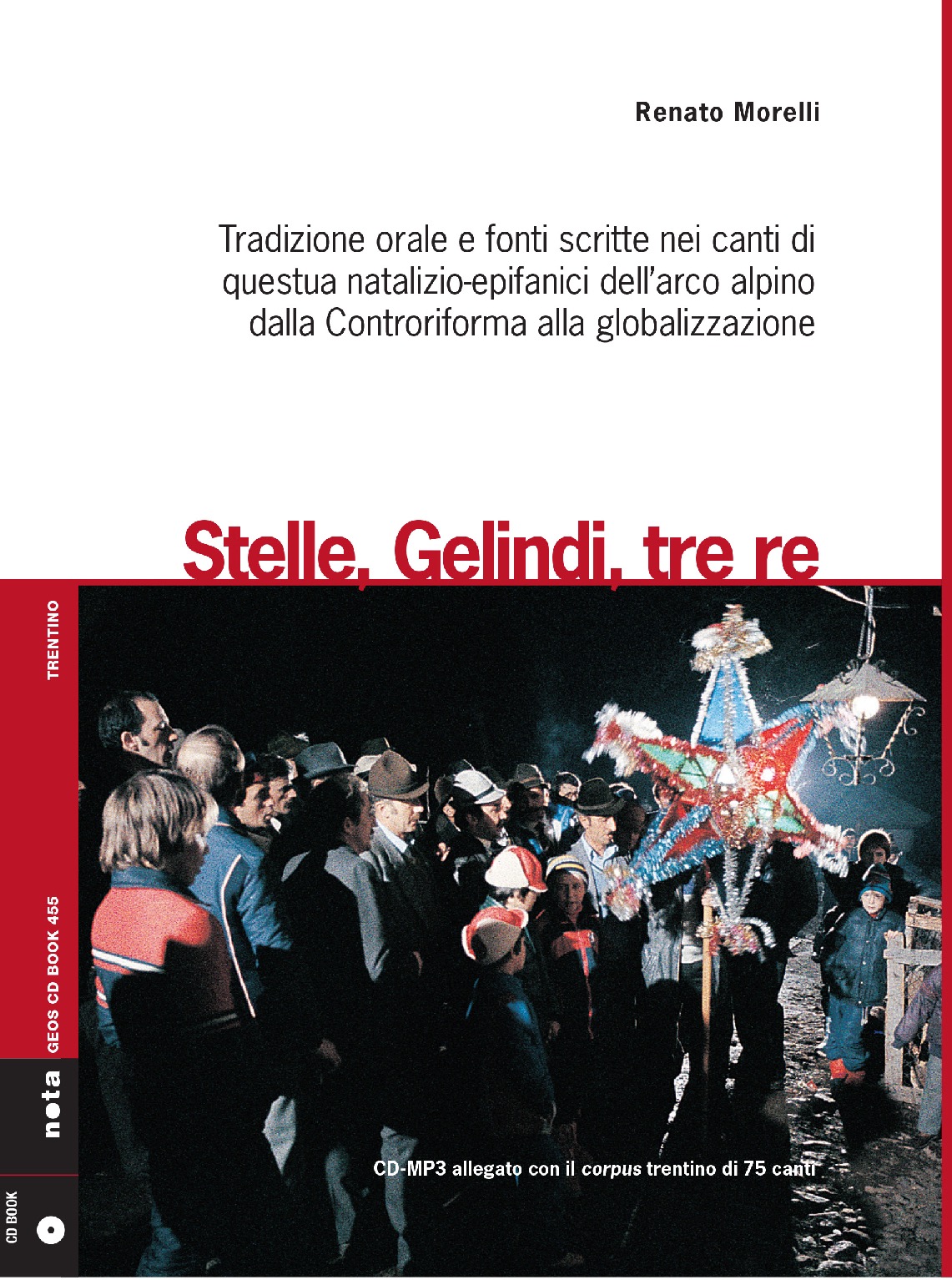 This CDbook presents the results of the author's field research of over thirty years, combined with research at the Vallicelliana library in Rome, the British Library in London, the library of the Bologna Conservatory, and the Ferdinandeum in Innsbruck. The publication has allowed new light to be shed on the central problem facing ethnomusicologists concerned with the Italian Alps, namely the origin of written sources of devotional music. This "cross-over" repertoire between written and oral traditions, the sacred and the profane, popular and learned culture, has largely been spread by oral tradition. Through specific research, it has been possible to identify not only the printed sources, but also the role of priests in the widespread diffusion of this repertoire.
With its roots in the Counter-Reformation with the Council of Trent and the various lodi a travestimento spiritual, popular melodies and songs which have been given new lyrics with religious significance, this tradition continued with the work of the Jesuits, Franciscans, and individual priests. This book presents in detail the work of Saint Carlo Borromeo (1538-1584) and the Dominican priest Father Serafino Razzi (1531-1613) during the Council of Trent (1545-1563). They directed, for six years, a commission of priests-musicians to prepare the lodi a travestimento spirituale. This work aimed to counter the spiritual songs in the vernacular of Luther and Calvin.
The custom of the Stella is linked instead to the Jesuits as a means of reinforcing the significance of the Epiphany (the visit of the Magi), as challenged by Luther.
This research, after sifting through the folds of 'micro-history' to arrive at the broader history of the Lutheran reform and subsequent Council of Trent with its laudi a travestimento spirituali, has shed new light on the origin and sources of a tradition which has spread throughout the Alpine region.
Roberto Leydi wrote:
"This research by Renato Morelli can be placed in a particularly advanced position in the Italian ethnographic panorama […] The research on lauda and songs is an important contribution to the knowledge of the Council of Trent which has been thoroughly studied, analysed and celebrated for its other areas including 'higher level music', but had been somewhat lacking in consideration of its impact on popular music."
The first part of the book is philological and historical-ethnographic, and examines the four principal printed sources found from the sixteenth through the eighteenth century.
The second part is dedicated to the ethnomusicological analysis of twenty-two songs published on these sources, including seventy-five variants from the Trento region.
The CD included with the book contains the complete corpus of the seventy-five variants from the Trento region as recorded by the author.